Migraine and Pain Do Not Define Me- My Creative Side

Obsessing over Broadway musicals, creating a newsletter for my 5th grade class, writing an essay that won me a scholarship to a summer theatre camp at age 8, taking private vocal lessons, consistently writing personal diaries from the 2nd grade to the present, being a member of multiple award-winning show choirs, acapella and madrigal groups, singing and dancing in the Macy's Thanksgiving Parade, participating in the Vienna Choral Society (VA), being cast in over 20 local dramas and musicals, singing the National Anthem for 4 professional sports games (baseball and hockey). These are the things that were so important to me and defined who I wanted to become.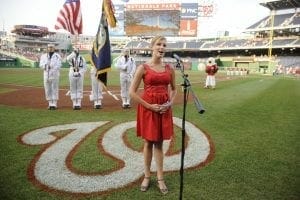 Yes, you can totally call me a theatre geek or a major Glee nerd. I was even elected as president of the Theatre Society without being part of the group. I received a partial scholarship for musical theatre at a prestigious liberal arts college. However, life happens. For multiple reasons including stupid life choices and medical issues (unrelated to my chronic migraine condition), I had to change my dream of making it on Broadway.
When I think about it, I would have eventually become chronic and couldn't work in an environment with bright lights, loud noises and crazy schedules. Life happens the way it's supposed to. I still sing around the house and in the car, every once in a while having an epic night out that includes karaoke with live bands.
I've also been lucky enough to have a friend who has a recording studio in his basement. He was a colleague from my banking days. Spending time in the studio is such a great release and I wish I could do it more often. Just playing around, trying new arrangements and letting out my emotions vocally is so cathartic.
Singing and acting have always defined me, not my migraine disease. What defines you?
SEND IN A SUBMISSION TO THE CREATIVITY CORNER.
USE THE Contact PAGE OR EMAIL ME AT KATIE.GOLDEN.MAIL@GMAIL.COM.
I'D LOVE TO SHARE YOUR ART, PHOTOGRAPHY, POETRY, SHORT STORIES AND PERFORMANCES. SHOW WHAT YOU LOVE TO DO THAT DEFINES YOU.
I spent a large portion of March traveling. I found myself in many different hotels. I had trouble sleeping. I was exhausted, but stayed up late too many nights, writing to keep my mind off the pain. Late night is actually when I feel most creative. The street lights from Vermont Ave off of Thomas…
In less than 4 years, I've written over 100 articles sharing my world with chronic migraine disease & pain. For migraine awareness month, here are my favs. June is Migraine and Headache Awareness Month, so I thought I'd share with you the ones that have meant the most to me. Help (Not) Wanted Roommates (Not)…
A couple of years ago, Archer and I visited friends in New Mexico. On a quick trip from Albuquerque to Santa Fe, we stopped to walk across this bridge that had such an incredible view. However, there were reminders everywhere that tragedy befalls this landmark often. Since May is Mental Health Awareness Month, I thought…