You Are the Sum of the Five People You Spend the Most Time With

"You are the sum of the five people you spend the most time with." – Jim Rohn
I found this to be a fascinating concept. You could approach this from so many different angles. You could dissect the people you most associate with today or you could look back on your life and pick the five most influential people in your life. What if the five people aren't exactly people, but places or events?
"Normals" vs Chronic

I would think that a "normal" would answer this question by naming their significant other, a work colleague, a family member, a best friend, and maybe someone they play a sport with.
Playing in an adult league sport is impossible for some of us, so spending time with a teammate is unlikely. Having and maintaining a significant other can be an incredibly difficult and complex relationship for those with a chronic illness. Romantic relationships can take a huge hit when one is often disabled in pain. Some of us are unable to have children or we aren't able to spend as much time with them as we had originally envisioned. Many of us can't work in an office setting, so co-workers and happy hour buddies are off the table.
Who Are My Five People?
My reality is that I don't spend time with five separate people very often. It's a mix of people, environment, and social media.
The sum of my five people includes- my apartment, my boyfriend, my girlfriends & family (long-distance), my social media family and my head. This may seem lonely as only my boyfriend do I see regularly in person. I've adjusted over the years. I cherish time spent in person with people much more, not knowing when the next time is that I'll see them.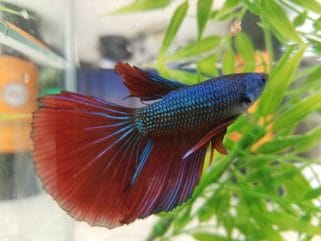 My Apartment– The large majority of my day is spent in my apartment, alone. However, I've made it my oasis. There are plants and flowers all over our one-bedroom apartment. I use an essential oil diffuser and always have my favorite music on. I did just buy a Siamese fighting fish named Mali, so she keeps me company at my writing desk.

My Boyfriend– When my boyfriend comes home, we make a point to watch the sunset together if we can. I talk his ear off because I haven't talked to anyone all day. We make a simple meal, and watch bad reality TV. He is a source of amazing love and support, a luxury not all in my position have. I also get a glimpse of the outside world, in which I used to be so active.
My Social Media Family– Although I'm physically alone in my apartment, I am in constant contact with others all day via social media. I believe a lot of people who have a chronic illness find themselves in the same position. I read other's stories. I try to answer as many questions as I can. I respond to feedback on my latest post. I plan and work with advocacy groups. In my own empty apartment, I am filled with voices like mine. All trying to live our lives the best we can, while offering support to our virtual families.
My Girlfriends- Then there are my close girlfriends. We are now separated by 3,000 miles away. I miss them, I miss their kids, I miss our crazy shenanigans. It's rare that we go a day without us commenting on our ridiculously long text string. They give me incredible support. To be honest, I probably see them more now that I live on the west coast than when we all lived within an hour of each other. The same goes for my family.
My Head– The person I spend the most time with, hands down, is my head. I say this for two reasons:
1. Migraine is my constant companion, whether I like it or not. It has not given me a reprieve in six years. It's always there, but how much it affects me depends on the day and the circumstances.
2. I spend a lot of time in my head, in a healthy way. My head spits out random ideas that tend to make it into a blog post in some shape or form. I often mull over an idea for days before I feel comfortable enough to put it onto paper.
What have my top five taught me?
The sum of my five people has taught me to be resilient, adaptable, creative, bold (especially in writing about my illness), appreciative of those who love me and grateful for an entire community of those who understand me.
Who or what are your five people? What have they taught you?
This article from Medium references the "sum of five people" and how to use it to be successful.
This week, most of my posts have been about kids. I wrote about a great children's book, Noah the Narwhal: A Tale of Downs and Ups. I shared an old article, called The Kid Conundrum about my decision on having children of my own. And now I want to share a picture that was drawn…
This is the first post of a 3-Part Series on dealing with one particular medical bill. The bill in question is $1,848 for charges during my in-patient hospital stay, which I received on 4/15/2015.
Since its inception, I've received insurance through the Affordable Care Act. It was enacted almost at the same time the I went on disability and lost coverage under my employer. I was still in the process of applying for Social Security Disability and knew that it could be years before I was eligible for Medicare.…