Sweet Pea's Battle with Pediatric Cancer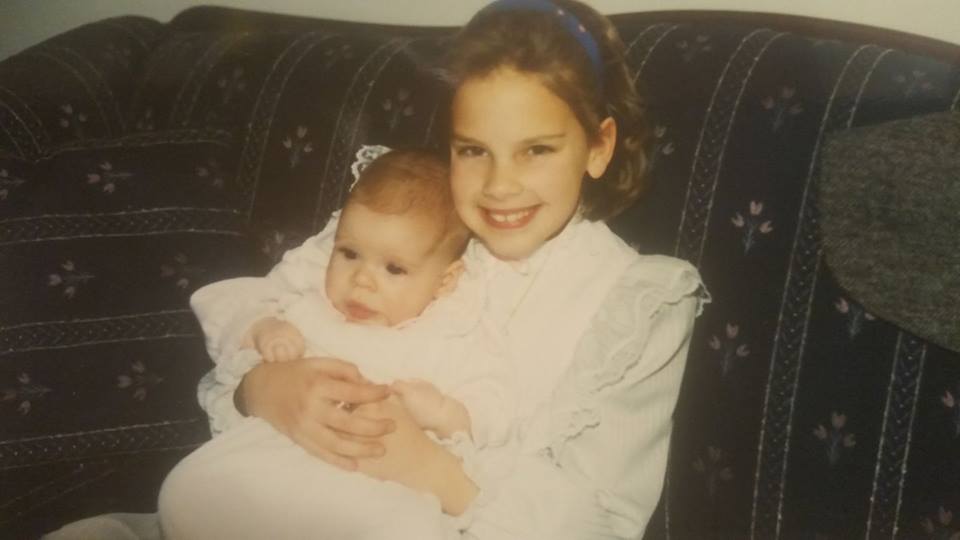 October is Breast Cancer Awareness Month. Football and baseball players will be wearing pink. Fundraising walks will raise millions of dollars. It's a worthy cause. I'm happy to say that I've had a friend beat it twice.
However, did you know that September was National Childhood Cancer Awareness Month? This year I decided I was going to honor those who have been touched by this disease in October, my cousin's birth month. Rachel would have been 28 this week.   
Warning Signs
At 18 months old she kept complaining that her tummy hurt. When my Aunt took her to the doctor, the diagnosis was not what they had expected. Rachel had neuroblastoma.
This form of cancer is the most common type found in infants, typically diagnosed around one to two years old.i Cancer in children, especially at Rachel's age is hard to recognize because they can't really verbalize what they are feeling. Additionally, some of the warning signs are symptoms similar to many common illnesses or injuries. For Rachel it was the ongoing pain in one area of her body that gave my Aunt alarm. Warning signs includeii:  
An unusual lump or swelling 

Unexplained paleness and loss of energy 

Easy bruising 

An ongoing pain in one area of the body 

Limping 

Unexplained fever or illness that doesn't go away 

Frequent headaches, often with vomiting 

Sudden eye or vision changes

Sudden unexplained weight loss 
Laughter Through the Pain
I was about eight years old when Rachel was diagnosed. Much of what I remember is visits to the hospital. She loved getting visitors. We would play the "stinky feet" game with her. Someone would take her sock off, pretend to smell her feet and then proclaim, "Ewww, you have stinky feet!" Rachel would just laugh and laugh, like a normal little girl. Her laugh was infectious. When it was time for us to go, she would cry as we walked out the door. My mom held back her tears as she told us we'd be back soon to see her.  
The chemo made what little hair she had fall out and the steroids made her bloated, but she was this beautiful, little ray of sunshine. Her parents called her "sweet pea." How does that happen to a baby? I didn't understand it then and I don't understand it now. Did you know that cancer is the second leading cause of death in children aged 1 to 14 (after accidents)? iii
Hope & Mickey Mouse
Rachel went into remission. She had to learn to walk again after being in a hospital bed for so long.  
She was granted a wish to go to Disney World through the Make-A-Wish Foundation, during a time when she was strong enough to travel. I can't imagine how overjoyed she was to see Mickey and Minnie.
The Crushing Odds
About 1,250 children younger than 15 years old are expected to die from cancer in 2016.iv Rachel had made a friend while in the hospital, a little boy fighting cancer who was just slightly older than she. I think the two families were a good support system for each other. Sadly, her friend did not make it.
One Sunday afternoon, I was ready to hop in the car to go visit Rachel as we had planned earlier in the week. However, my mom entered my room to tell me that today just wasn't a good day for Rachel. I cried, just like I am now writing this. Her cancer had returned.
Hail Mary
Her health deteriorated very quickly. Her doctors ran out of answers and sent her to Johns Hopkins University. There the doctors suggested a new procedure in which they took out some of her bone marrow, gave her aggressive chemo treatments and then put the bone marrow back into her body. Now, this is a pretty common and successful treatment, but for Rachel it was too late.
It was my first day of 6th grade when we got word that Rachel was going to be taken off life support. The family gathered at the hospital. It was time to let her go. My parents and the doctors refused to let my brother and I see her. The surgery, medications and cancer had completely transformed her body and they didn't want us to have our last memory of her in this condition. She was one month from her 3rd birthday.
Healing is Not Linear
I missed school for a week. I wore the dress I had picked out for school pictures to wear to the funeral. She was buried in a beautiful cemetery that I still visit occasionally today. During some rough times in my adult life, I would visit and whisper my problems to her.
My Aunt and Uncle's marriage didn't make it, like many marriages that experience the death of a child. My Aunt remarried and they have a daughter who is funny, sassy, bright and beautiful. She wants to become a pediatric nurse and has a tattoo of the letter "R" for the sister she never knew.
Only three new drugs have been approved for use in children cancer treatment in 30 years compared with hundreds of drugs that have been developed specifically for adults.v  However, more than 80% of children with cancer will survive five years or more compared to the 58% survival rate of the 1970s.vi
Rachel's sweetness, laughter and strength during her short life still makes me smile today. Both her life and her passing have had a profound impact on my life. I am grateful for the time I had to spend with her.
In remembrance of Rachel, I encourage you to make a small donation to the Make A Wish Foundation. If pediatric cancer has affected your life, please share your stories to ensure these brave children are honored and remembered.
My first migraine attack happened at age five, a mere child. In a way I was lucky that I experienced aura with mine. That one symptom made it easier to diagnose and treat. However, many children have migraine and their symptoms go unrecognized.
This week, most of my posts have been about kids. I wrote about a great children's book, Noah the Narwhal: A Tale of Downs and Ups. I shared an old article, called The Kid Conundrum about my decision on having children of my own. And now I want to share a picture that was drawn…
I have unabashedly said, "I wish everyone had a migraine attack once." In some twisted way, the coronavirus pandemic is doing just this. The entire world has just been hit, in a sense, by a migraine pandemic You wanna know why I wish every single person experiences a full-body, four-phased, 72-hour migraine attack? Because…