I Have to Honor Your Pain and You Have to Honor Mine

I had the opportunity to sit down with author, Ashley Hattle who just wrote the book, Cluster Headaches: A Guide to Surviving One of the Most Painful Conditions Known to Man.
Ashley has cluster headaches and I have migraine attacks. Neither of us truly know what the other person goes through, yet we found so many similarities. In the end all headache disease communities need to unite and support each other.
A phrase that we both connect with is:
I have to honor your pain and

you have to honor mine.
It's that simple. It's not a contest and we should always create a judgment free space!
If you don't experience cluster headaches or have been newly diagnosed, this is a great guide to understanding this disease.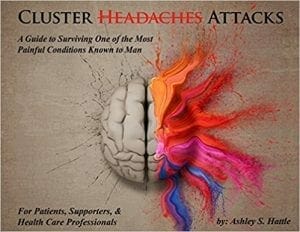 Yesterday, I attended the 10th Annual Headache on the Hill. Organized by the Alliance for Headache Disorders Advocacy (http://allianceforheadacheadvocacy.org/headache-on-the-hill), over 100 patients, doctors and caregivers descended upon Capitol Hill to lobby for migraine research. We met with the offices of Senators and Congressman throughout the day to show how incredibly underfunded this disease is compared…
The Golden Gate Bridge is truly a masterpiece of iconic architecture. The 4,200-foot-long, art-deco suspension bridge is made of cable-spun steel and concrete. It's quite an experience to drive over the freezing cold waters of the San Francisco Bay. Sometimes there is so much fog that it hides the top of the pillars painted in…
Arte Cluster is a project founded to raise awareness of cluster headache through art. Arte Cluster Project is an independent project founded and managed by Claudio Geraci, a chronic sufferer, and Francisca Mesa, a supporter.