International Overdose Awareness Day
August 31, 2019
/
/
Comments Off

on International Overdose Awareness Day
International Overdose Awareness Day (IOAD) is today, August 31. This day was started by an organization in Australia in 2001, this is a day to not only remember those lost to overdose, but also to educate. "The tragedy of overdose death is preventable and more must be done to save lives," says the Penington Institute who started this initiative. Today is a time to remember. A time to act.
Today is important to me as I lost a dear friend to an overdose over three years ago.
This friend had been working hard to fight this horrid disease; he was a gentle soul – caring, adventurous and talented. He doted on his family and had strong bonds with his friends.
But he hid his addiction well and tried to get clean on his own. Though he had beat this demon over a decade before, this time he desperately wanted to be physically present for his family. But as he spiraled into the depths of rock bottom, he needed help. His beautifully strong wife, my best friend, had a toddler and a newborn to care for when he entered into the first of many rehab programs.
Standing on the Edge
The disease had taken hold, making it incredibly difficult to find a local program that could give him the type of support he needed. Eventually, he traveled out of state to enter a more intensive rehab program that would really give himself a fighting chance at sobriety. While there he achieved three months of sobriety.
I will never forget the last words I said to him face to face after a deep conversation about how serious he was to shake this devil off his back. I was so proud of him for being so honest with me and being so open to getting help. He would get through this, I was confident.
As we hugged each other goodbye, I said to him, "the next time I see you better not be at your funeral." He promised it wouldn't be, and in my heart, I knew he meant it. He never meant to break that promise.
On February 23, 2016, I received a heart-breaking text. He had relapsed.
My friend was gone.
To process the news, I walked down to the ocean to wrote his name in the sand. Then I sat there and cried and watched as the waves eventually erased his name away, carrying his soul away into the Pacific Ocean. Now, every single time I stand at the water's edge, I inscribe his name in the sand, run my hand along the incoming tide, splashing water up into the heavens and blow a kiss.
I miss him terribly as I watch his kids grow up, catching glimpses of him in their faces, their mannerisms and their kind hearts.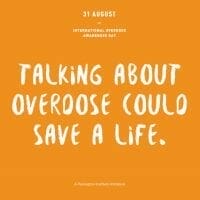 Recognizing the signs sooner
I wish I had asked more questions and was more up front about my suspicions. We could have found him and his family the support they needed for him to get sober.
I never want another family to experience this devastating loss. I have a saying, "never let your pain go to waste," and I don't want his pain and his life to go to waste, which is why I share his story.
On this International Overdose Awareness Day, I want to share resources from the Penington Institute in the hopes that it may help you or a loved one.
International Overdose Awareness Day Resources
This week, most of my posts have been about kids. I wrote about a great children's book, Noah the Narwhal: A Tale of Downs and Ups. I shared an old article, called The Kid Conundrum about my decision on having children of my own. And now I want to share a picture that was drawn…
In an effort to encourage people with migraine to share their experiences through art, Allergan announces its Frames of Mind campaign. This interactive project invites artists to share their work to visually represent the impact that migraine can have on patients' everyday lives.